Student Population/Location
Alf Cuthbert School is a Kindergarten to Grade 8 public school located in Moosehorn, Manitoba and is the northern most school in Lakeshore School Division. We are pleased to provide a quality education in a small school setting. Our student population varies from 70-80 students. Parents and other interested community members are encouraged to be involved in the education programs of our school.
Mission Statement
Alf Cuthbert School commits itself to providing a quality educational program in a safe, caring, and respectful environment so that each student, with hard work, can excel to the best of their ability, in our ever-changing workplace.
Who we are
Alf Cuthbert School is a small school that prides itself in supporting all students in becoming the best person they can be. We enjoy the "family" feel of our school. Everyone knows everyone and works hard to ensure that all students develop to their best of their ability. Not only do we strive in academics, but in supporting students to be friendly, kind, and well-balanced individuals. Our students work together in a variety of activities to create an inclusive family of students, parents, and staff.
Programming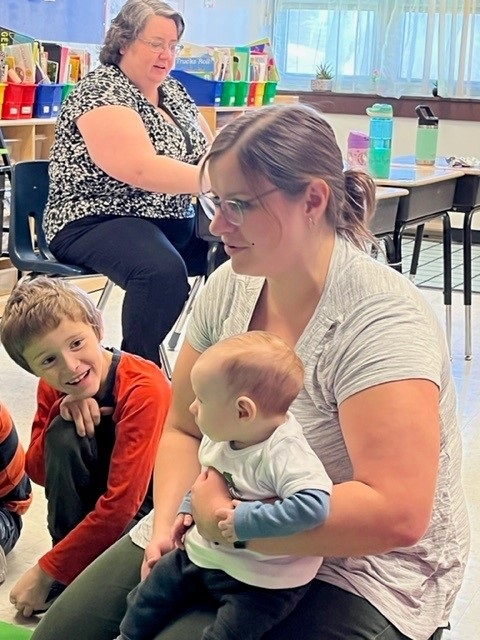 Alf Cuthbert School strives towards integrating programming that enhances reading, writing and numeracy. Programs such as Roots of Empathy emphasizes caring, and building peaceful and civil societies, as our students can build the world they deserve.
Music emphasizes exploration and connections to literacy and numeracy that allows students to express themselves in unique ways, which motivates their learning and helps build their self-confidence.
Physical education emphasizes movement exploration to promote health and physical fitness.
Languages are also offered and explored in French and Anishinaabe.
Highlights
As a whole school, we participate in many activities such as Christmas singing in the community, decorating the RM Office Christmas tree, Jump Rope for Heart, buddy reading, and spirit week. Students participate in authentic and hands on learning such as planting gardens, environmental conservation activities, and supporting community events. Alf Cuthbert School invites the community to things such as Remembrance Day, Christmas Concert, whole school celebrations, reading to kids, I Love to Read month, and other events. We pride ourselves in building community both inside and outside the school walls.